'Out of sight': our work on river blindness featured in German magazine GEO
240 million people, mostly in Africa, are still at risk of contracting river blindness. On World Sight Day, we are highlighting the work of our dedicated scientists, who are developing new cures in the Democratic Republic of Congo, in the hope of finally eliminating this deeply neglected disease.
Although onchocerciasis is the second infectious cause of blindness worldwide, it is sometimes portrayed as a disease of the past – a neglected disease that is close to elimination. While this is true in certain countries, people in remote areas of the Democratic Republic of Congo (DRC) are still deeply affected.
Last month an article in the German GEO magazine gave these people the attention they deserve – and portrayed efforts to develop treatments for this debilitating disease. Finally, river blindness, as onchocerciasis is also called, is no longer 'out of sight' – the English translation of the article's title.
The GEO reporters follow Sabine Specht, DNDi's Head of Filarial Diseases, and a team of Congolese researchers and doctors, from the fishing villages along the Onane river in the rainforest – where they visited patients and local health workers – to the Masi-Manimba hospital almost 2,000 kilometers away in the western DRC, where DNDi is conducting clinical trials to find a better treatment.
River blindness is caused by a parasitic worm transmitted by the bite of blood-sucking blackflies which breed in fast-flowing rivers. Once inside the body, the worms' embryonic larvae migrate to the skin of the infected person and eventually to their eyes, causing severe itching, vision impairment, and ultimately blindness.
Some solutions exist: large-scale programmes of pesticide spraying, and mass administration of a drug called ivermectin in endemic countries have been highly successful, preventing transmission of river blindness to millions.
However, huge swathes of people have been left behind. Ivermectin does not kill the adult worms and needs to be administered repeatedly for years, presenting a challenge especially to remote regions in countries like the DRC. Even today, 19 million are infected by onchocerciasis (99% of them in Africa), including 1.15 million with vision loss.
In the rainforest surrounding the city of Kisangani in the DRC, river blindness is still very much prevalent. This is where Sabine Specht visited last February, accompanied by the veteran reporter Issio Ehrich and the award-winning photographer Brent Stirton from the German magazine GEO.
Their feature, published in the August issue of the magazine, gives visibility to a disease that usually does not attract a lot of attention from the media – or from medical research. It also puts a spotlight on a researcher who has chosen to dedicate her career to developing cures for patients who have been neglected by pharmaceutical innovation.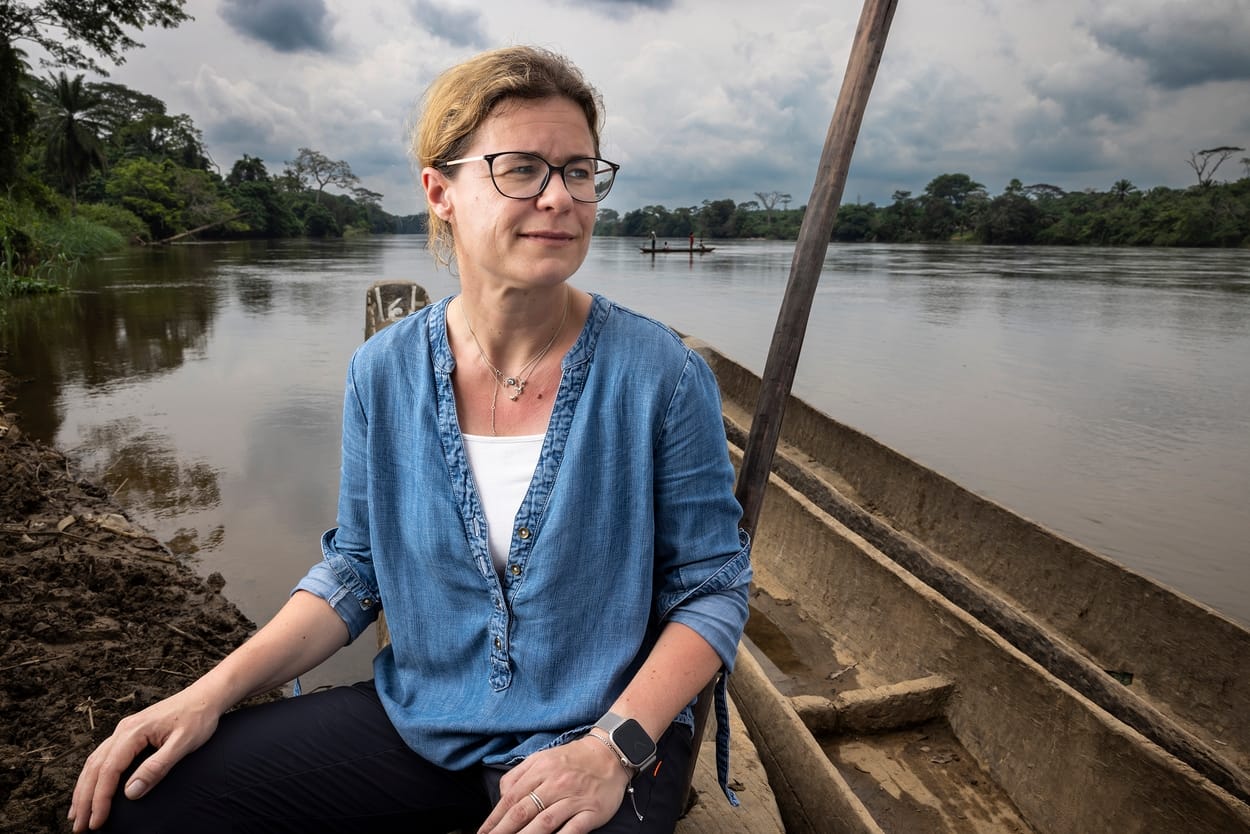 Born in Germany, Sabine Specht started studying river blindness as an academic researcher and spent almost 20 years in academia, at the University Hospital Bonn and then the University of Zurich. She joined DNDi in 2017.  Her staunch dedication is to develop a safe, effective, affordable, accessible cure to finally eliminate river blindness.
'In Germany, no one would let their children walk around with these worms in their body. When it happens in other countries, should we just accept it? That's deeply unfair,' she told GEO.  'We want to make the world a little fairer.'
The two Phase II studies currently conducted by DNDi and its partners in Masi-Manimba in the DRC are evaluating the efficiency of two promising compounds to cure onchocerciasis: emodepside, a broad-spectrum parasitic drug, and flubentylosin, an antibiotic that targets a bacteria that adult worms need to survive.
Sabine Specht compares her efforts to eliminating the disease to a marathon race: the last miles are the hardest. She estimates that getting the first rapid drug to cure river blindness into the hand of patients would take 'at least 10 years.' But she is determined: 'Bringing such a life-changing drug to the market, that is a lifetime goal.'
For the original article, please click here.